Ask Eartha: Ways to Conserve Water
Dear Eartha, I'm an avid rafter, but this drought has me worried about the future of my favorite sport. What can I do to ensure a future full of whitewater?
I love to raft, too, and this year my friends and I were pretty disappointed that we didn't pull any river permits. I'm starting to wonder if it has anything to do with anticipated low flows or the worsening drought in the West. We see it in the headlines nearly every day: the Western megadrought, Lake Powell historic lows and record-low snowfall in the Colorado River Basin. The Colorado Basin Implementation Plan — part of the state's water plan — estimates that Summit County will be facing a water shortage of 15 billion gallons annually by 2050. This should sound the alarm for any outdoor enthusiast, but what can we do to make a difference?
Water in Summit County
The Blue River watershed is home to six municipalities (Blue River, Breckenridge, Dillon, Frisco, Montezuma, and Silverthorne) and four major ski areas (Keystone, Breckenridge, Copper Mountain and Arapahoe Basin). The water that ends up in Dillon Reservoir serves not only us folks up in the High County, but also our friends down in the Front Range.
Most of the total annual streamflow comes from snowmelt during the spring and early summer. And while our snowpack currently sits just above average, it's likely our rivers will see below-average flows. Why? The whole county is experiencing moderate drought — so as snow melts, it's sucked up by dry soil and vegetation before it can even make it to streambeds. For example, in 2018 when snowpack measurements were 117% of normal, water making it to the reservoir landed at only 73% of normal.
Less water in our streams means less for us to use, and less for folks downstream. And even though the water we use gets cleaned and released back into rivers, purifying water for human use is incredibly energy-intensive. So, if you take the time to turn your lights off or unplug electronics when you aren't using them, shaving a few minutes off your shower or fixing that leak in your toilet can have a similar impact.
Conserve with commonsense habits
Yep, it's true, shorter showers can make a big difference. By shaving two minutes off your shower, you could save up to 1,000 gallons annually. That's not all.
Your outdated dishwasher and clothes washer might be lacking EnergyStar certification. EnergyStar certified dishwashers can save an average of 3,870 gallons annually. EnergyStar certified clothes washers use about 25% less energy and 33% less water than regular washers. You can save thousands of gallons each year simply by upgrading these two appliances.
A toilet with a lower GPF (gallons-per-flush) rate uses less water than a standard 1.6 GPF model. Look behind your toilet seat or inside the toilet tank to find your throne's GPF rate. By simply placing a Drop-a-Brick water-saving device (or plastic bottle filled with water) in your toilet tank, you can slow the flow significantly, saving up to thousands of gallons annually.
Tame the Tap and Fix-a-Leak week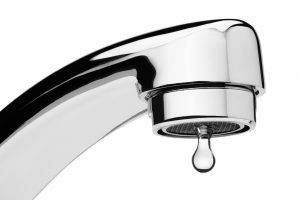 When you add it all up, household leaks can waste nearly 1 trillion gallons of water annually, nationwide. From toilets to faucets to showerheads, there are several fixtures that might be wasting water at home. Check out the Environmental Protection Agency's Fix-a-Leak week, March 14-20, to get tips for repairing those sneaky leaks. Even better, sign up for an indoor water check-up — free to most Summit County residents. A trained technician will inspect your toilet for leaks, measure water use in your home and install simple on-the-spot fixes. You will be provided with a custom water use report and you'll qualify for rebates on upgrades. Visit HighCountryConservation.org/water for more information.
At the end of the day, I think we all understand the severity of what's happening to water in our beloved county. You can take action and make a difference with little effort and little to no cost. So, start running that dishwasher only when it's full, fix that pesky toilet leak, and turn off the tap while you're brushing. When you're ready for the next step, sign up for an indoor water check-up and snag some rebates for that janky fixture you've been meaning to replace.